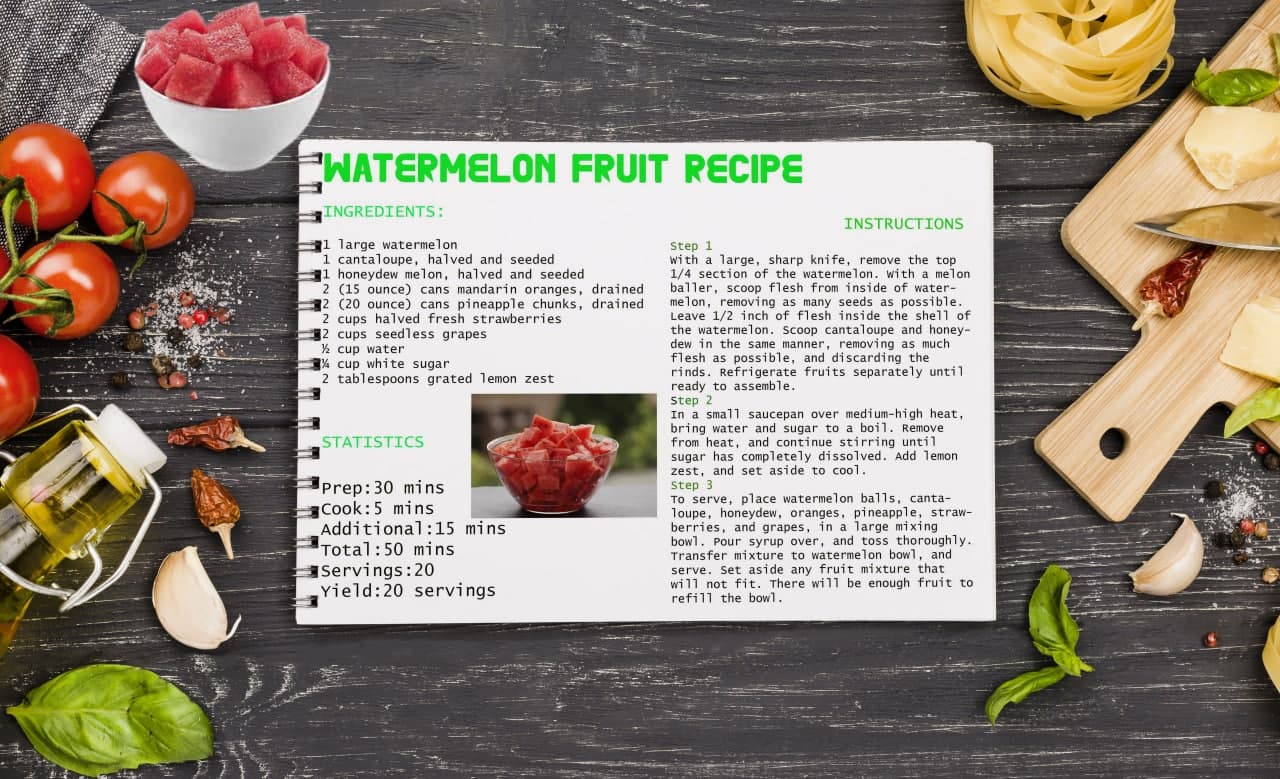 Watermelon | sugar: Imagine having all your sweet fruits in one single bowl! Get the sweetest fruits recipe today and stay ahead of your cravings. Let's head over and prepare this amazing fruit.
Ingredients
One large watermelon
1 cantaloupe, halved and seeded
1 honeydew melon, halved and seeded
2 cups halved fresh strawberries
2 tablespoons grated lemon zest
¼ cup white sugar
½ cup water
Two cups seedless grapes
2 (15 ounce) cans mandarin oranges, drained
2 (20 ounce) cans pineapple chunks, drained
Instruction for Watermelon Fruit
With a large, sharp knife, remove the top 1/4 section of the melon. With a melon baller, scoop flesh from inside of watermelon, removing as many seeds as possible. Leave 1/2 inch of flesh inside the shell of the watermelon. Scoop cantaloupe and honeydew in the same manner, removing as much flesh as possible, and discarding the rinds. Refrigerate fruits separately until ready to assemble.
In a small saucepan over medium-high heat, bring water and sugar to a boil. Remove from heat, and continue stirring until sugar has completely dissolved. Add lemon zest, and set aside to cool.
To serve, place watermelon sugar balls, cantaloupe, honeydew, oranges, pineapple, strawberries, and grapes, in a large mixing bowl. Pour syrup over, and toss thoroughly. Transfer mixture to watermelon bowl, and thereby, serve. Set aside any fruit mixture that will not fit. There will be enough fruit to refill the bowl.
We deliver fresh watermelon to your doorstep at no extra cost. Talk to us today on 0710266236 and place your order. Better still, you can order this alongside other groceries and be eligible for free delivery to your doorstep, office or workplace within Nairobi metropolitan area.
Since we endeavor to deliver fresh groceries, Jostar Grocers delivers within 24 hours time. Place your order in good time then we deliver at your convenience. Enjoy watermelon benefits daily at your home!
Would you like to have your business online? Talk to the best digital company today on 0727345770.