Govt Announces Date for Release of Grade 6 KPSEA Exams to be 17th January 2023. A total of 1,253,577 million learners who sat for the 2022 Kenya Primary School Education Assessment (KPSEA) will start accessing their results from Tuesday.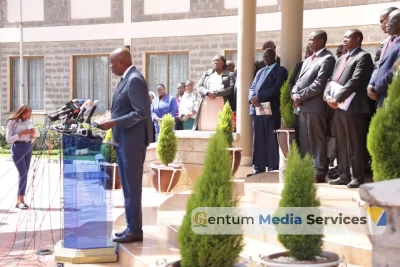 Education CS E. Machogu, KPSEA results 2022 release date will be 17th
Machogu said the learners who sat Kenya Primary School Education Assessment (KPSEA) exam will transit to junior secondary.
Education Cabinet Secretary Ezekiel Machogu says all the learners will transit to Junior Secondary School (JSS).  "I wish to announce that all these learners will transit to Junior Secondary School." The CS said.
Release of Grade 6 Results, when are KPSEA results released?
"The exercise of marking has now been completed and the schools will be able to access the KPSEA reports through Kenya National Examination Council (KNEC) portal from tomorrow, Tuesday the 17th January, 2023," Machogu said while presiding over the release of Form One placement at the Kenya Institute for Curriculum Development, (KICD) Nairobi on Monday morning.
KNEC has also been directed to hold joint discussions with with the two agencies regarding the national KPSEA reports with a view to providing feedback on the Competency Based Curriculum (CBC) to help guide the ongoing curriculum review.
In the meantime, the Education CS has warned that no school should charge Grade 6 learners transitioning to JSS any fees.
CS Machogu says the government has already set aside Ksh. 15,000 for each of the learners that will start joining JSS on January 30.
The enrollment, availability of facilities, and security of each school will be taken into consideration in determining which schools will be able to host junior secondary students, and which will be merged with other schools.
Only schools with more than 45 students will be eligible to host junior secondaries, while those with fewer pupils will be merged with nearby schools.
In terms of infrastructure, the ministry will look at the size and ownership of the land, as well as the availability of at least two extra classes for junior secondary students and the physical infrastructure available, including sanitation and food handling.
The schools will also be assessed on their preparedness to take on the different subjects that the students will undertake, especially those that require practicals.
One of the essential requirements for junior secondary schools is the availability of a laboratory for use by students for Integrated Science lessons.
The transition of the inaugural Grade Seven class in junior secondary schools marks a significant milestone in the Competency-Based Curriculum (CBC).
Working on a 100% Transition
He maintained that the Ministry would work with the Ministry of Interior to ensure that all students will join Grade Seven in line with the 100 per cent transition policy.
School heads will be required to fill data on the admission of learners to schools on the National Education Management Information System (NEMIS) to enable monitoring of the students.
The Digital Marketing Agency Services
Gentum Media Services offers state of the art Web Design and Development, Web Hosting Services, Digital Marketing, Corporate Branding and Social Media Management. Specific to this article, we are happy to support your business gain from professional email marketing strategies.
Talk to us today and let us discuss your big project.