TEACHERS SERVICE COMMISSION – TSC PAYSLIP ONLINE
As days go by, we continue to embrace technology where anything is done online. The Teachers Service Commission, TSC has made it possible for the Kenyan teachers registered under the TSC to get their payslips online. However, the biggest hurdle is that most teachers do not know how to go about it. Under this circumstances, many teachers fall under the hands of people who wants to use their details and confidential information to benefit themselves.
Well, that is about to change. Now, teachers can create their account, view and download their payslips online, hassle free.
Find the below easy steps to get you started.
1. Logon to TSC Payslips Online Portal
You can log into your T-Pay account to view and download your payslip. Enter your TSC or ID number as the user name and your password in order to log in and view your payslip.
Use the link https://tpay.tsc.go.ke/fa392bf9a4692aa0cc/zln to view the page displayed below.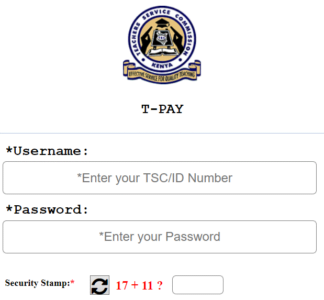 If you've registered before, enter your TSC number and password at the login tab.
2. Register for a T-Pay Account (First-Time Users)
If you are a first-time user, you need to register before accessing your TSC payslip. Click on the "Registration/Activate Account" button and fill an online form. Bear in mind that you should enter the correct information to complete your registration.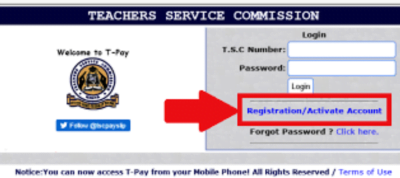 To successfully complete the registration, you require to have the following ready.
Full names
ID number
TSC number
Mobile number
Pay station code
Date of birth
Valid email address
Active bank account number
KRA tax PIN
Designation code
For security purposes, you will answer a secret question that helps in recovering your account when you forget your password. Also, remember to confirm your password to complete the registration process.
Always remember that providing false information can lead to de-registration. The first initial of your name should be in the upper case to avoid getting an invalid username.
It's easy to check your registration status through the portal if it was successful or not.
3. Login to TSC Payslips Online Portal
Congratulations on reaching this point, it means you have, come a long way. Hold tight, you are almost there!
After registration, you can now enter your username and password on the tsc payslip online login page . In this case, the username can be your tsc number or ID number. Once you successful login, you'll get to view your tsc online account window as shown below;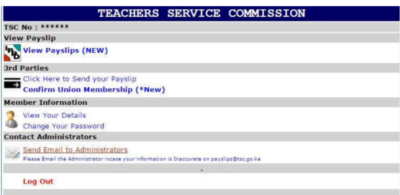 4. View & Download your TSC Payslip Online
This part must mean great relieve!
Once you log in, you can view tsc payslips online to verify the details. Simply click on "View Payslip" to have a glimpse of the records.
In addition to that, you can check your current status through the "View Your Details" button.
After that, navigate to the Online Services tab and click on the Online Payslips button to begin downloading. Thankfully, the Tsc provides payslips for different months. Thus, you can choose a specific payslip to download.
5. Log Out
After downloading your payslip TSC online, make sure you log out of your account. This action safeguards all your sensitive and confidential information.
In an event that you have forgotten your password, then click on the 'reset password' to generate a new password.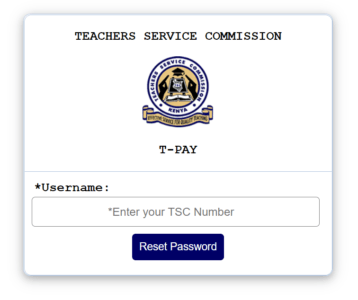 We sincerely hope this process flow helps take the stress off your shoulders. If you still have any difficulties or questions, you can email the support department through [email protected]./. For effective assistance, please include your full names, TSC number, and the challenge you're facing in the email. The problem could be an invalid date of birth or account number.
You may find this article done by Gentum Media Services interesting. It is about TSC Tpad2 login & registration.
Did you know that you can access affordable professional services from us? Get Affordable Web Design, Premium Business Web Hosting, Digital Marketing Services, Social Media Management and Professional Designs and let your venture stand out from the crowd.
FAQs About TSC
What Is Teachers Service commission of Kenya
The Teachers service commission of Kenya (TSC) is an independent commission established under Article 237 of the Kenyan constitution. TSC is mandated to manage human resources within the education sector.
What is the role of TSC in Kenya
Reviewing the standards of education and training of persons entering the teaching service;
Reviewing the demand for and supply of teachers;
Advising the national government on matters relating to the teaching profession; and
Establishing and maintaining a teaching service adequate to the needs of public learning institutions in Kenya.
How do I log in to my TSC Payslip
Visit the TSC'S Website(https://www.tsc.go.ke/
Click on the (online services tab) and choose " (T-pay) in the dropdown menu. 
A login window will popup prompting you to enter your details to view your payslip. 
How do I get a copy of my Payslip
You can quickly get a copy of your TSC payslip by typing the following link https://tpay.tsc.go.ke/. You'll get a window that prompts you to key in your login information. Once you log in, click on View Payslip. You can filter the tsc payslip you want and click the download button on the document.