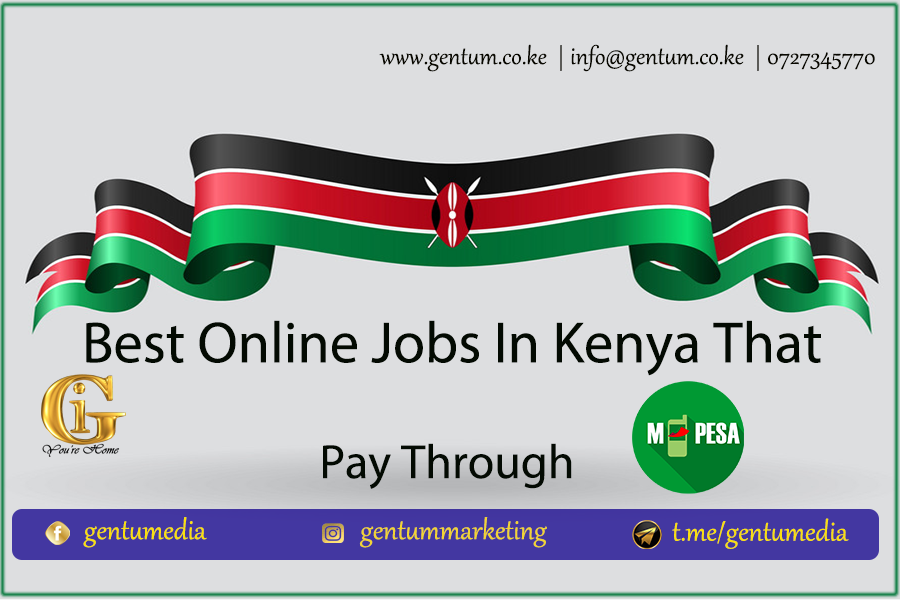 The Best Online Jobs That Pay Through Mpesa in Kenya
Did you know that you there are reliable online jobs in Kenya that pays through Mpesa here in Kenya? Well, the demand for online and remote working has even tripled especially now since the covid-19 pandemic changed everything.  This has resulted in work from home by most of corporations and firms in the country.
These online jobs need a laptop, reliable internet, active Mpesa account for payouts, a personal time management schedule and of course the right skills.
List of the Online Jobs in Kenya paying via Mpesa. 
Article Writing
Article writing has been a source of financial gain for most people. Students, mothers, beginners, experts have all had a chance to earn money through reliable online article writing jobs. With the ever-increasing demand for information from significant search engines such as Google, Bing, and Yahoo, website owners prefer to outsource some pieces to meet it. These are a good way to start earning while working from home. Start with article writing accounts such as  Fiverr, Upwork and more.
Filling Online Survey
Paid online surveys is another online jobs in Kenya you can do using a smartphone. Comes in various forms such as filling forms online, video chats, etc. Get paid directly to Mpesa on sites like GeoPoll, Prize Level, Respondent among others.
Transcription Jobs In Kenya
There are genuine transcription jobs in Kenya that pay through Mpesa. All you need is a smartphone or a computer and a reliable internet connection. Sites such as Gotranscript, Rev.com, Fiverr, and Upwork offers an opportunity for beginners to kickstart their online transcription journey and earn competitively.
Data Entry Jobs In Kenya
Online data entry jobs are the easiest way to earn since you don't require any professional skills except great typing speed. However, knowledge on Excel and Word can come in handy for you. Many companies offer remote data entry. Similarly, it can be done from the office. It is important to note that working remotely means that you will not get great pay and you are not likely to see a regular salary increase.
You can try out sites like Clickworker and DionData solutions you can make a maximum of up to $16 per hour depending on your effort.
Social Media Marketing
On the rise is the need for social media marketing in Kenya. Brands are looking for social media managers to serve as their voice on their business pages. You need to choose a niche that is profitable and one you are passionate about. This involves promoting brands and connecting with potential customers online.
Photography
This is one of the easiest ways to monetize your quality photos on sites like Foap, Shutterstock, Alamy  or Adobe Stock. Alternatively, you may create a website and sell your photos directly from it.
Resume Writer Jobs In Kenya
This is one of the lucrative areas to venture in. This is because there are so many graduates flooding the market every year. Most of them do not have stunning resumes. If this sounds a yes for you, ResumeEdge or WriterBay can kickstart your resume writing job.
Web Design and Development
The current market dictates that Web Design and Development is now a necessity. Having outstanding skills on web design, you can land lucrative deals from this fast growing niche.
Graphics Designer
There is unlimited room for amazing online graphic designer jobs in Kenya, and the world at large. All you need is to showcase your skills and there is always a ready market for you. Have a look at sites like Upwork, Fiverr or Freelancer.
Online Research Jobs In Kenya
This is another avenue to get online jobs in Kenya that pay through Mpesa. You can also read about Survey Jobs in Kenya paying through Mpesa.
Ask for Social Media Marketing | Web Design | Digital Marketing | Social Media Management.
Disclaimer
We do not offer online jobs or online job training. This article only gives you an overview of some of the most common paying online jobs in Kenya. The content is to help expose job seekers to online job opportunities.