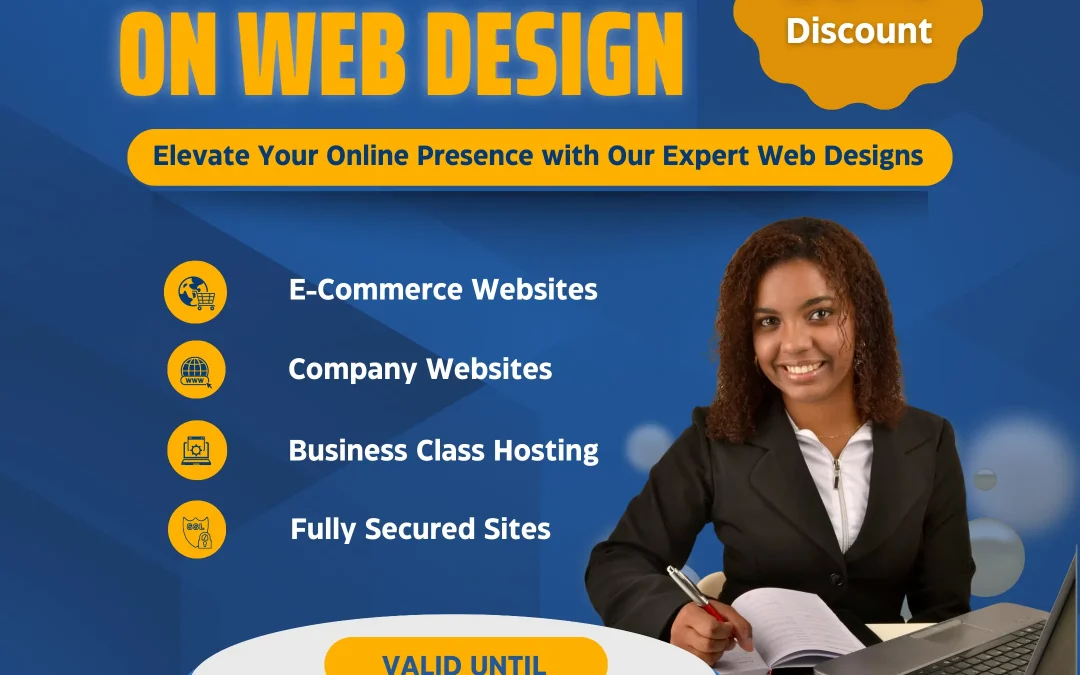 Web Design Offer: In today's digital age, having an attractive and functional website is crucial for businesses of all sizes. Your website is often the first point of contact for potential customers, making it a powerful tool for creating a lasting impression and driving conversions. If you've been contemplating a website makeover or are just starting your online journey, now is the perfect time to take action! We're excited to announce an exclusive limited-time offer – 50% off our top-notch web design services until September 30, 2023.
Why Invest in Professional Web Design?
Your website is a reflection of your brand, and it's essential that it communicates your message effectively while providing an exceptional user experience. Here are a few reasons why investing in professional web design is a game-changer for your online presence:
1. First Impressions Matter:
Your website's design is often the first thing visitors notice. A clean, visually appealing layout can create a positive first impression and make users more likely to engage with your content or make a purchase.
2. Mobile Responsiveness:
With the increasing use of mobile devices, your website must be mobile-responsive. Professional web designers ensure your site looks and functions flawlessly on all screen sizes, improving accessibility and user satisfaction.
3. User Experience (UX):
A well-designed website offers a smooth and intuitive user experience. This leads to lower bounce rates, longer page visits, and increased chances of conversion.
4. Search Engine Optimization (SEO):
Web design goes hand-in-hand with SEO. A properly structured and optimized website will rank higher on search engines, making it easier for potential customers to find you.
5. Brand Consistency:
Professional web designers ensure that your website aligns with your brand's identity, using consistent colors, fonts, and imagery. This reinforces your brand and builds trust with your audience. We got you on this.
Our Web Design Offer Services
At Gentum Media Services, we are passionate about helping businesses establish a strong online presence. Our team of experienced web designers is dedicated to creating customized websites that meet your unique needs and goals. Here's what you can expect from our web design services:
Custom Design: We'll work closely with you to create a website that reflects your brand's personality and objectives.
Mobile Optimization: Your website will be fully responsive, ensuring a seamless experience for users on all devices.
SEO Integration: We'll optimize your website's structure and content to improve its search engine ranking.
User-Centric Approach: Our designs prioritize user experience to maximize engagement and conversions.
Timely Delivery: We understand the importance of deadlines and will ensure your website is launched on schedule.
Limited-Time Offer – 50% Web Design Offer!
To celebrate our commitment to helping businesses thrive online, we are offering an incredible 50% discount on our web design services. This exclusive offer is available until September 30, 2023, giving you the perfect opportunity to revamp your website or create a stunning new one without breaking the bank.
Don't miss out on this amazing opportunity to elevate your online presence. Contact us today to get started on your web design project. Whether you're a small business owner, an entrepreneur, or a large corporation, we have the expertise and creativity to deliver a website that sets you apart from the competition.
Ready to unlock your website's full potential? Reach out to 0727345770 and let's embark on this exciting journey together. Remember, this web design offer is only valid until September 30, 2023, so act now to secure your 50% discount on professional web design services!
Book Your Slot Today and Enjoy 50% Web Design Offer Discount.
Disclaimer: Terms and conditions apply. This offer is valid for web design projects and cannot be combined with other discounts or promotions. Contact us for more details.